The sprayed on popcorn texture (also known as acoustical ceiling texture) was falling off of this Cocoa Beach condo's ceiling. Of course right smack in the middle of the ceiling in the main livingroom. That just so happen to have one of the best views of the Banana River that Cocoa Beach has to offer.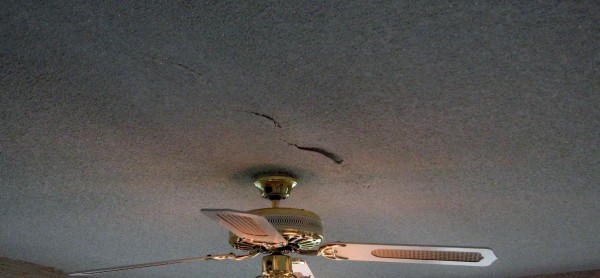 Right when I looked at this ceiling I knew that a tape joint had been previously repaired at one of the drywall seams. My guess would be that when this popcorn ceiling had been repaired before. The contractors didn't prime the dusty surface after removing the old tape joint and scraping back the popcorn texture at the repair to be able to re secure and re mud the new drywall taping and mudding areas..
Dust surfaces are not the ideal area to try and do drywall finishing on. These types of ceiling repairs will surely fail if the proper preparations are not done at the beginning of a popcorn ceiling repair project or any type of ceiling repair or drywall repair for that matter…
This Cocoa Beach popcorn ceiling texture was cracking and falling down!
This popcorn ceiling even had the silver glitter on it. I've been in the drywall trades long enough to have glitter gun from back in the early 1990's when it was the latest and greatest new ceiling texture with glitter.
Schedule Your Popcorn Ceiling Repair Estimate Here
Serving all of Cocoa Beach and Cape Canaveral
Brevard County Painting Contractor # PT393
Florida Registered Drywall Contractor # RX11066969
EXCELLENT JOB!

Dear Paul:

I want to express my great appreciation for a job very well done when you and your team fixed the badly damaged popcorn ceiling of my condo in Cocoa Beach.  I am impressed with the perfection of the job, the professionalism of your team and the great price of the work.  Your work is totally consistent with the advertising in your webpage.  Definitely, I will call you for my future projects.

I Highly Recommend Your Company "Peck Drywall & Painting"
C. Alvarez–  Cocoa Beach, Fl
Schedule Your Popcorn Ceiling Repair Estimate Here
Call
Cocoa Beach, FL: 321-453-6233 or 321-777-9337
or
Local Cocoa Beach Drywall Contractor