I have been repairing and painting homes here in Brevard County for almost 30 years.
Exterior Painting Project Spotlights
Featured Web Pages
From my Project Blog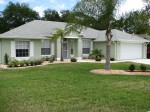 August 10, 2014 By Paul Peck
On this Cocoa, Florida exterior repaint in Port Saint John we repaired several staircase stucco cracks, damaged stucco from the hurricane shutters and a buckled stucco area at the front entrance of this Cocoa, Fl home. Water had gotten behind the decorative stucco piece and rusted out the wire lathe at the front entrance of this South facing 10 year old home. Which ultimately caused the stucco to buckle and fail in that area. The whole house had chalky and faded paint that we had to deal with by priming all of the surfaces to be painted first, before we could start the exterior house painting. Here's the steps we took to prep and paint the exterior of this Cocoa, Fl home: 1) After digging out 4" to 6" around the perimeter of this homes exterior stucco walls 2) We pressure washed all of the exterior surfaces to be painted on this stucco home. 3) Then … [Read More...]
Testimonials
Peck Drywall and Painting
Not knowing who to choose for some wallboard work and painting we went to the internet. How happy we are that we chose Paul. The texture work he did on a skylight shaft was a work of art. We highly recommend Peck Drywall and Painting.
The Fisters - Melbourne Beach, Fl

Rating: 5 out of 5 Stars submitted on
PeckDrywallandPainting.com
04/15/2014