I have been repairing and painting homes here in Brevard County for almost 30 years.
Exterior Painting Project Spotlights
Featured Web Pages
From my Project Blog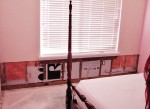 October 25, 2014 By Paul Peck
This drywall repair and texture matching project is in the Cloisters subdivision of Indialantic, Fl. We were contacted by a past customer to do a drywall repair on the already cut out and dried out the water damaged walls in two of the guest bedrooms of their home. Water had got the drywall wet on the one exterior wall in each of the two guest bedrooms of this four bedroom home here in Brevard County. Once we arrived the drywall had already been cutout up to the window sill around 20" in one bedroom and at 16" on the other bedrooms wall. The base board and carpet had been removed by the water restoration company when the plumbing leak had first occurred. So, all we had to do to get this drywall repair party started, was to prep the floors and cover personal items with plastic. Next, I used the paper masking machine to cover the window sills and bi-fold doors ect... so that … [Read More...]
Testimonials
Peck Drywall and Painting
Not knowing who to choose for some wallboard work and painting we went to the internet. How happy we are that we chose Paul. The texture work he did on a skylight shaft was a work of art. We highly recommend Peck Drywall and Painting.
The Fisters - Melbourne Beach, Fl

Rating: 5 out of 5 Stars submitted on
PeckDrywallandPainting.com
04/15/2014