I have been repairing and painting homes here in Brevard County for almost 30 years.
Exterior Painting Project Spotlights
Featured Web Pages
From my Project Blog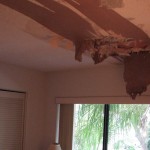 July 28, 2012 By Paul Peck
Here's a repair I did on a water damaged popcorn ceiling at a condominum complex that I have the contract to do all of their drywall and painting work in Cape Canaveral, FL. The water damage was caused by a roof leak during Tropical Storm Debby. Water Damaged Popcorn Ceiling: Water damaged area cut out and new drywall installed. Ceiling repair taped, mudded and skim coated. New popcorn texture applied and feathered out to blend into existing popcorn texture on the ceiling. Water Damage Specialist's Please feel free to call or Email us for more information about our Interior and Exterior Painting services! Or simply just Click to schedule an Estimate Here Brevard County Painting License #PT393 State License # RX11066969 Please give us a call for a prompt and accurate quote for allyour popcorn ceiling … [Read More...]
Testimonials
Peck Drywall and Painting
Not knowing who to choose for some wallboard work and painting we went to the internet. How happy we are that we chose Paul. The texture work he did on a skylight shaft was a work of art. We highly recommend Peck Drywall and Painting.
The Fisters - Melbourne Beach, Fl

Rating: 5 out of 5 Stars submitted on
PeckDrywallandPainting.com
04/15/2014