With all of the rain we've been getting here in Brevard County this Summer, it's no doubt that there are many homes that have had a roof leak. Which leads to potential water damage on ceilings and walls. What's worse is if the roof leak continues, all of the moisture can lead to wood rot and is the perfect food source termites in any wood framing, furring strips, roof trusses and roof decking.
Even if you have a block home, wood is most likely part of your roofing system and possibly in your wall framing in order to be able to attach the drywall to a block wall when your home was built.
Roof Leak?
The best piece of advice I can give you is when looking for a contractor to repair your roof, ceiling or drywall be sure to hire a licensed contractor to get the best results!
This blog post is about a water damaged pool patio ceiling caused by a roof leak in the suntree area of Melbourne, Florida.
The ceiling had been repaired previously and by the looks of it, the roof continued to leak until the flat tile roof was completely redone recently by a licensed local roofing contractor.
Once I dug into this exterior ceiling it was apparent that the water damage was more extensive than it looked when the drywall ceiling was in place. I removed most of the ceiling and along with the drywall coming down, so did the blown in insulation…
Not only was a large section drywall ceiling in need of replacement. The furrings strips that hold the ceiling up had termite damage and rusted screws from all of the moisture from the roof leak.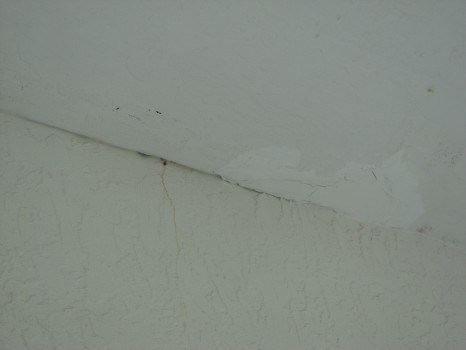 After speaking with the homeowner about what plan of action it was going to take to get the extra framing replaced and resecured.
Once getting the ok to proceed with the extra work:
I removed all of the damaged furring strips and replaced them with new and installed 5/8″ exterior gypsum drywall soffit board with my handy dandy drywall lift with a 16′ extension.
Next, I finished the new drywall seams with fiberglass mesh tape, two coats of 45 minute setting type compound and skim coated the entire ceiling with USG All Purpose joint compound.
The next day I came back and retextured the entire ceiling with a skip trowel texture that needed to match the other four patios with skip troweled ceilings of this exclusive 6,000 sq ft home.
Ceiling Repair and Textures
Most ceilings in our area have some type of texture on them. Whether the texture is popcorn, orange peel, skip trowel texture, knockdown texture or a custom ceiling texture, we can match and blend the texture into the rest of your ceiling flawlessly. I've been doing ceiling repairs in the Brevard County area for over 20 years and have the knowledge and skill to get your ceiling back to it's original luster before the damage had occurred.
Here's a short before and after video of this Suntree pool patio ceiling before it was repaired and textured. Then the after video of the completed water damaged ceiling repair:
Water Damage Repairs and Texture Matching Experts
The Peck Drywall and Painting Company has been providing our expertise on water damage repairs and restoration projects from hurricane, wind, storm and flood damage, plumbing leaks, water heater and roof leaks for over 19 years here in Brevard County. For you as a contractor or homeowner, we can work with your insurance company and provide expert knowledge and the skills to turn any damaged home or business into a newer looking, updated, better than before the disaster for you. Whether it needs minor ceiling repair and painting, or a complete renovation, we can get it done on time and within your budget.
Are you looking for a Water Damage Specialist to repair your ceilings or walls from a leaking roof at your home or business? Please call 321.777.9337 or complete our online request form.
Brevard County Painting Contractor Certification # PT393
Florida Drywall Contractor License # RX11066969
Melbourne, Satellite Beach, Indialantic and Viera: 321-777-9337
Cocoa Beach, Merritt Island and Rockledge: 321-453-6233